Top Ten Book Recommendations for People Who Want to Cry Their Eyes Out
Doesn't the title of this post make you want to read all of the books already? I know it does. This week, I give you my top recommendations for books that will break your feels, kill rainforests with the amount of tear filled tissues they induce. Basically, books that take your heart, whisper sweet little nothings to it THEN SMASH IT WITH A HAMMER.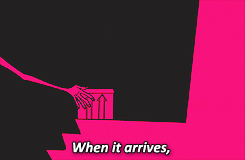 A little disclaimer about this list: some of these books will not be the first ones in the series. I will tell you the series so that you may embark on the journey of destroying happiness. LET'S BEGIN!
1. Harry Potter and the Deathly Hallows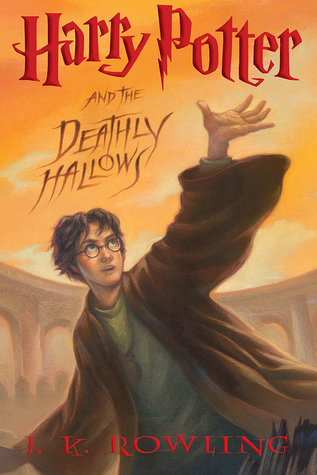 Let's be real, pick up any Harry Potter book and you'll probably cry. IT'S FINE. Rowling was the first author I read that truly killed off fan favorites. So thanks, thanks a lot for that. Now please excuse me while I go cry over the losses of my darlings.
2. Bridge to Terabithia
Who on earth decided this was a good book to make little children read? Not I! I couldn't even make it through the book, if we're being honest. I just sat there in my tears. Then I tried the movie. BAD IDEA. Yeah. This book though.
Fun little story. Once upon a time my little sister broke her leg (like, broke it real good). So my dad decided that he was going to take her to the movies to lift her spirits. Little did he know that they were walking into a movie that crushes hopes, dreams, happiness, and grapes.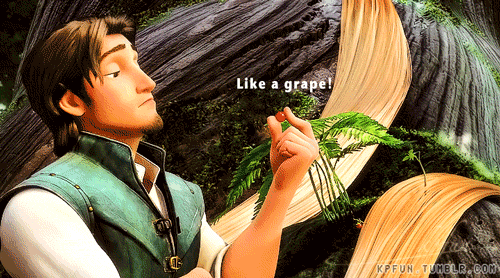 3. A Walk to Remember
I cried during the movie. I cried reading the book. I'm not a big Nicholas Sparks fan, but this movie was pretty big when it came out. And it had Mandy Moore in it, OF COURSE I WATCHED IT. If you know anything about Nicholas Sparks, it's that he loves his freaking formula of killing off people. Which is fine for one read. This was mine. Never again. (But I will unashamedly continue to watch that movie!)
4. Me Before You
Speaking of romance books that make you want to cry…I bought this book, wanting to give it a try. Then silly, naive me decided that I would watch the movie on a plane ride (because I hadn't read the book and IT HAD FINNICK). Mistake. Big mistake. I couldn't stop crying. Because WHY OH WHY DID YOU DO THAT YOU STUPID MOVIE! The people beside me probably thought I had issues. It's fine. Still haven't picked up this book. But I'm convinced it will bring tears to the eyes of all those who read it. (That is, all of those who have their feels crushed by budding romances ripped apart.)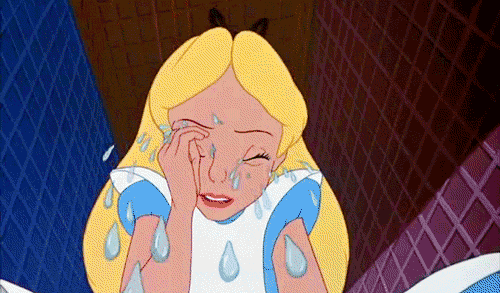 5. City of Heavenly Fire
This is the conclusion to the Mortal Instruments series. WHY DID I THINK I'D BE SAFE READING THIS BOOK?!? I should just always assume that books with huge battles will probably bring on the water works. Unless the series is Twilight and everyone lives at the end…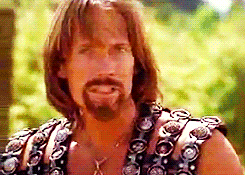 (Thought that was going to be another Disney GIF, didn't you. HAH. I'm full of surprises!)
6. We Were Liars
I picked up this book for my YA lit class. My professor was the one who recommended it. Yeah. I was not functional for a solid fifteen minutes after finishing this book. THANKS A LOT PROFESSOR. I'm fine, just emotionally scarred. But whatever. I didn't need to be happy.
7. The Outsiders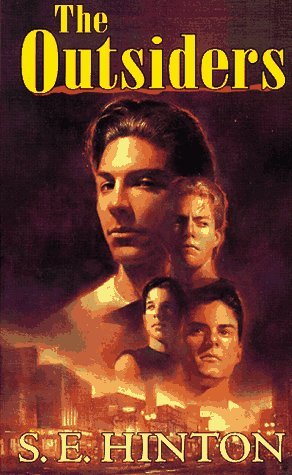 Oh man. Seventh grade me could not control the feels while reading this book in class. I was not okay. I'm sure my teacher thought I was weird (because let's be honest, I was). This is a classic tear-jerker. "Stay golden, Ponyboy." I DIE 😫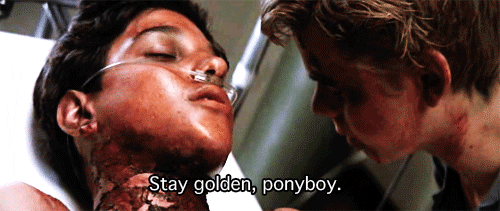 8. Of Mice and Men
Another classic. I didn't necessarily cry my eyes out after reading this book, but I wasn't all that happy. Lenny was squishy and just wanted to be loved. THAT'S ALL HE WANTED. And a puppy. Yeah, it's just tragic how it ended.
9. The Boy in the Striped Pajamas
I went into this one blind. SO BLIND. THAT WAS A MISTAKE. Before I knew it, I was reduced to a puddle of tears. There was no hope for me. WHY DID I THINK THERE WAS HOPE?!
10. Our Dark Duet
Of course I have to end this wonderful little list of happiness with the last book that left me wondering if I'd ever be happy again. I ugly cried for a solid thirty minutes. Only the power of chocolate from the UK began to slowly pull me out of the dark hole full of my tears that this book brought upon me.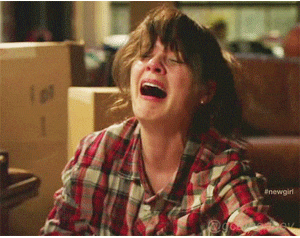 AND THAT'S IT, FOLKS. I hope that list lifted your spirits. Now you know which books to avoid…I mean read. Get reading! Maybe you can fill up a pool with the amount of tears you produce. You'll probably also kill a rainforest with the amount of tissues required to read all of the books on this list.
What books are on your tear-jerker list? What was the last book that made you cry? Are you an ugly crier like me? Does chocolate make the world a better place? (The answer to that one is yes, yes it does.)